So let's face it! Everyone has their list of movies that are coming out this year that they ALL have decided they're gonna see NO MATTER WHAT! So I decided to share with you all my INCREDIBLY short (I'm being facetious) list of movies that are coming out THIS year that I'm gonna make DAMN SURE I see.
#1 SUCKER PUNCH (March. 25, 2011)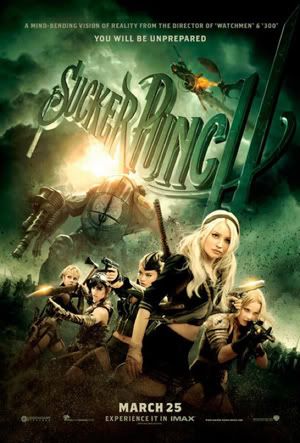 Zack Snyder has given us an EXCELLENT "Dawn Of The Dead" remake,"300", and "Watchmen" plus with an upcoming "Superman" movie that has everyone's attention, it's not hard to see why Zack Snyder is quickly becoming an infamous name among comicbook fans and movie-goers alike. Me personally, I like Zack Snyder and I'm probably one of the FEW people who can forgive him for "Watchmen" (after all, he didn't WRITE IT). So when I saw the trailer for "Sucker Punch" was hooked INSTANTLY, hot chicks, an insane asylum, murder weapons, and disorganized changes of location! SIGN ME UP! Seriously though, "Sucker Punch" looks like it's gonna an extremely visual and badass movie of digital lunacy that we probably haven't seen since the "Star Wars" prequels, however the REASON I can forgive it here and not in the "Star Wars" prequels is because "Sucker Punch" is NOT a franchise and considering Zack Snyder's track record, MADDENINGLY INSANE are kinda his thing. Check out the trailer below!
#2 BATTLE: LOS ANGELES (March. 11, 2011)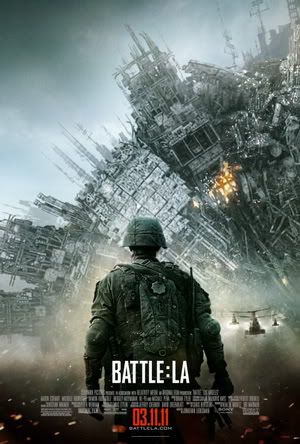 What is it with South Africans and Aliens? After
Neill Blomkamp
' "District 9" it seemed like South Africans were the go-to guys for realistic sci-fi movies
. Jonathan Liebesman certainly has an interesting track record as far as hard and gritty goes. "Darkness Falls", "Rings", "The Texas Chainsaw Massacre: The Beginning" and "The Killing Room", quite an interesting jump from horror to sci-fi, but those worlds aren't too far apart (see "Alien" for proof of that). Considering this a balls to the wall war movie with
aliens
, I can say that this looks BAD ASS. How could you NOT wanna see this movie after seeing a trailer like this?!
#3 THE ADJUSTMENT BUREAU (MARCH. 4, 2011)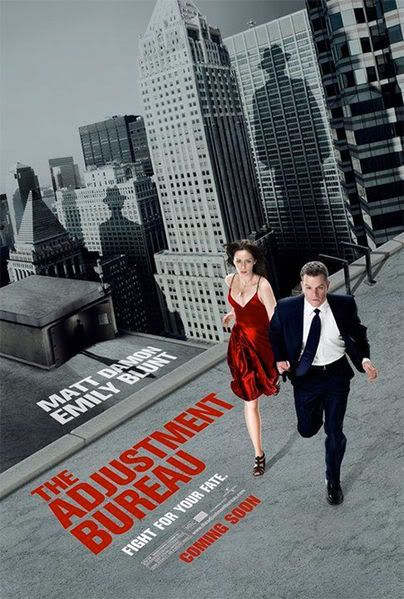 I really like Matt Damon and I can pretty much say that almost any movie he signs on is probably going to be pretty good. After seeing this trailer, I know I'm gonna end up watching some
love story
unfold with slim to no-chances of Matt Damon kicking random ass BUT, this just so happens to be a
Philip K. Dick
story...and if you don't know who
Philip K. Dick
is then I feel unbelievably sorry for you. Being a fan of Dick and Damon, I figured I can't lose and after seeing the trailer this looks like it's gonna be a pretty fun movie. Plus, I've always been a face of otherworldy forces controlling or monitoring the fate of man.
#4 GREEN LANTERN (June 17, 2011)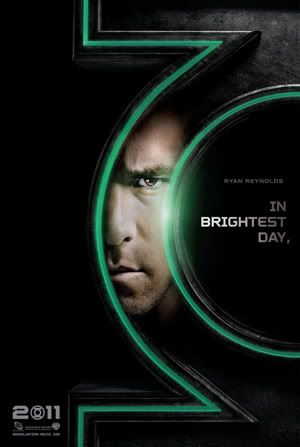 How LONG have we been waiting for this movie?! Honestly, I thought we were all convinced that a Green Lantern movie should've happened SOONER than LATER...and that Ryan Reynolds should play Wally West and NOT Hal Jordan...but that's another topic
...Anyways, after hearing that they were going to make a Green Lantern movie (FINALLY!) I was like well this could go one of two ways, either it's going to be EXTREMELY offensive to fans OR it's going to EXTREMELY offensive as a movie in general. Needless to say I don't have incredibly high hopes for this movie (nothing against Ryan Reynolds, he's actually one of my favorite actors) but my hopes lie in the direction and well...just the over all look of it. The costume looks AWFUL and OBVIOUSLY fake and I can already tell I'm going to be distracted by it the entire movie. But, nonetheless, I'm still gonna try to see this movie because I like Green Lantern AND I'm HOPING Guy Gardener shows up AT LEAST once! Trailer is below!

#5 SUPER 8 (June 10, 2011)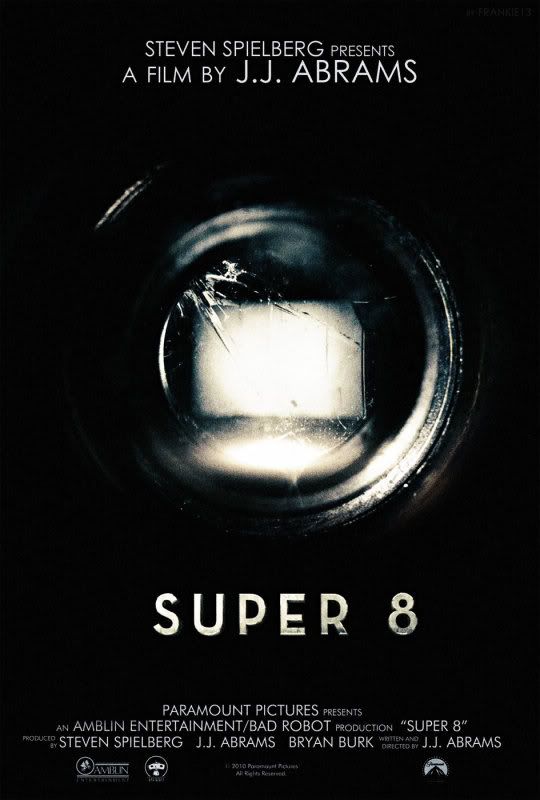 J.J. Abrams has been a MAD HOUSE of viral marketing and probably the guru of the viral market. "Cloverfield", "L O S T", you name it, he's done it. So when J.J. Abrams hooks up with his more evolved self Steven Spielberg, the name combo SPELLS BIG BUCKS for studios. So far the story of "Super 8" looks like a re-imagining of "E.T." but a bit more action packed (if that makes any sense). I am VERY much so looking forward to this movie and enjoying another of J.J.'s self-spun tales. I'll gladly sit out "Star Trek" and any other franchise he sticks his hand in, but when it comes to his own original work, J.J. Abrams is a BEAST! Trailer Below !
#6 TWILIGHT: BREAKING DAWN PT. 1 (Nov. 18, 2011)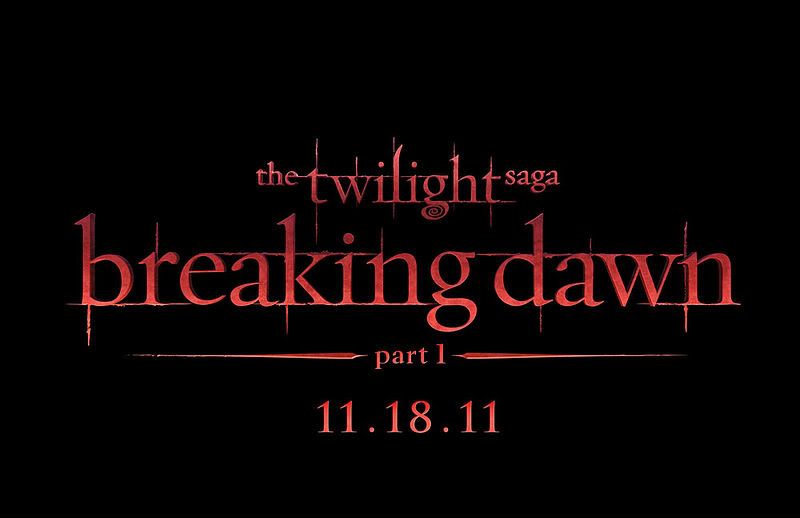 YES! "Twilight" and NO, I am NOT kidding, I AM VERY MUCH SO LOOKING FORWARD TO THIS MOVIE! Confused ?! Here's why, ever since I started my Twilight Review Series on Youtube, I have found it to be BY FAR the MOST fun I've EVER had reviewing a movie. The "Twilight" films are SO awful they have allowed me to go on rants the likes of which could only be achieved by The Angry Video Game Nerd!! *sigh* I can already hear myself laughing my ass off at horrendous dialogue and Edward's "I have a stick up my ass!" Vampire face. BRING IT ON TWILIGHT!
Honestly, it's been awhile since I've complained about anything and I've been waiting for this vial of awfulness to RANT and RAVE about how awful it is! PLUS, having seen the movies I am immune from "Just Being One Of Those Guys Who Hates Twilight." I'm telling you, these movies are awful...and while I WON'T pay any money to see it, I WILL REVIEW THE F*CK outta this movie. Trailer Unavailable...