Like the gift that keeps on giving (sorta like Cancer is that disease that may or may not come back and bite you in the ass) it's time for me to once again address our old pal The DC Reboot...correction The NEEDLESS DC Reboot. After the snafu of The Starfire Controversy (Starfiregate ?) as figured below:
Starfire: Extraterrestrial Sex Prop...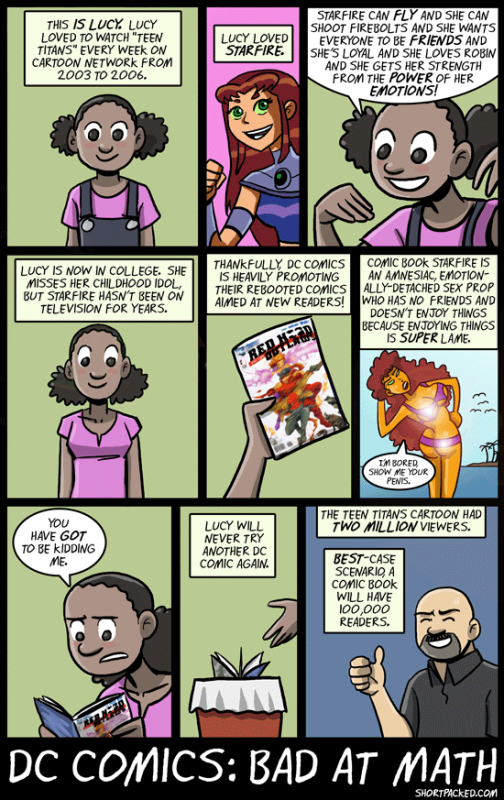 That pretty much sums it up...
I figured things would settle down and The DC reboot would eventually hit it's stride and start producing quality work again. However I'm hearing thus is not the case...but that's not the topic exactly. Either way the thing that's rising the bile to my throat is the current incarnation of one of my (and I'm pretty sure many others) animated crushes Harley Quinn. Now Harley was a COMPLETELY original creation made just for "Batman: The Animated Series" (still one of the best cartoons ever) and ever since her conception Harley has been a MAJOR break out character, generating fandoms and cosplayers and long list of geeks drawn in by her cutesy, sadistic charm. What was Harley's magic you ask? Was she some hyper-sexualized slut? Was she merely fan service? NO! Harley was a breakout character because she was enjoyable to watch, and despite being insane, she was cute, misguided, lovable, and we loved her because of her hopeful and optimistic outlook on everything (even crime...hrm...).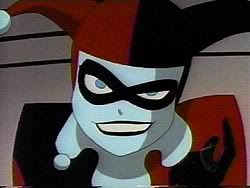 C'mon, who can hate THIS face! =D
Harley broke her way into the mainstream comic books and was WELL received as a Batman rogue. Not only that but the translation from animated to comic book didn't mar her character at all, she still maintained all the traits and charms that made us love her. Harley's involvement in the comic books even made the catastrophe that is "Countdown" slightly enjoyable...(and that ain't easy considering...)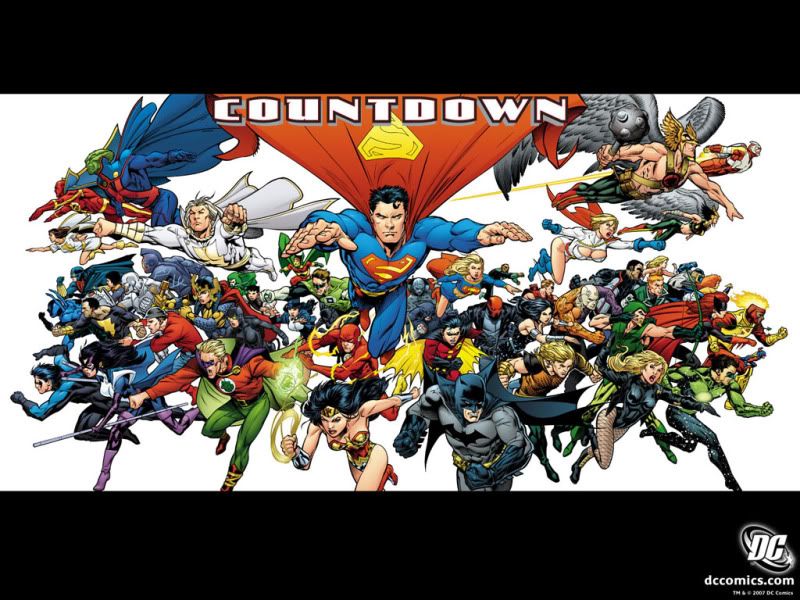 Trust me, it only LOOKS cool...
Anyway, when a NEW Batman series was announced on The WB (later the The CWKids) Harley was going to be a featured character, and I don't know about everyone else but I liked "The Batman", it took the right amount of liberties with characters without raping them completely. So when Harley made her debut, she was just as perky and cute as her previous incarnation.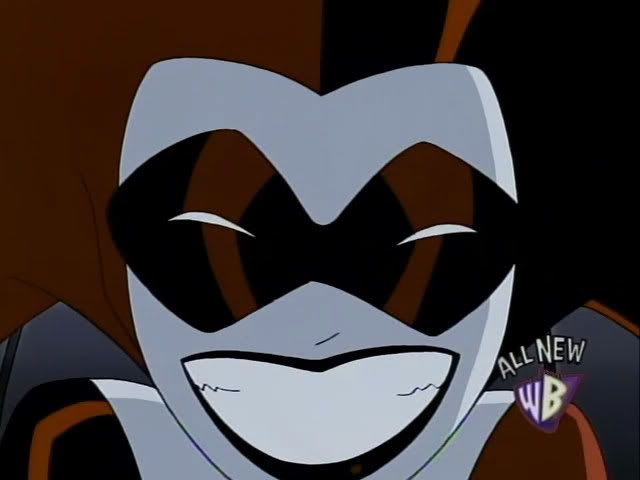 C'mon look how happy she is! You honestly can't hate this face!!
But then something happened...something very, very horrible happened...not only in the world of comic books, but in the entertainment industry at large. The word "reboot" no longer applied to that KICK ass 3D animated series about computers that was ironically better than "The Matrix Trilogy".
The industry just rebooted your title Yo !
Reboots, swept the land like a massive plague, claiming franchises and rendering them meaningless shadows of their former selves. and for reasons I can only assume prove the whole 2012 thing...the Reboot Plague hit DC Comics. Like magic all of DC's brightest and best were overhauled, for reasons that are still outside of our understanding, and suddenly the Reboot Plague hit some people I cared about.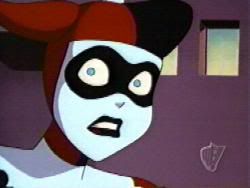 We have reason to believe that Harley was tipped off about The Reboot Plague and went into hiding...
Harley was hit in the crossfire and instead of being the bubbly, cute, misguided criminal chick, some jack ass who probably didn't know jack squat about Harley's character got it in his head to turn her into some NOT CUTE, NOT BUBBLY, NOT MISGUIDED, criminal chick who ends up banging Deadshot (Floyd Lawton) in a bathroom...
I feel disgusted even posting this. Keep in mind that the part of this that REALLY makes me sick is that it's Floyd Lawton banging Harley...and I hate Deadshot...I hate Deadshot so much.
Let's go back and state what made Harley a great character, she was cute (like kittens), bubbly (like a child), cheery (like someone who has the world on a string) and every now and then she was just plain old goofy, but it worked for her because it was all for the sake of getting a laugh out of The Joker. Harley was NOT a hardcore murderer like The Joker, Harley was a petty criminal who sure, would hurt people but no more than she had to and would usually avoid it altogether if possible. If The Joker represented the dark side of humor, Harley was definitely the light side of dark humor.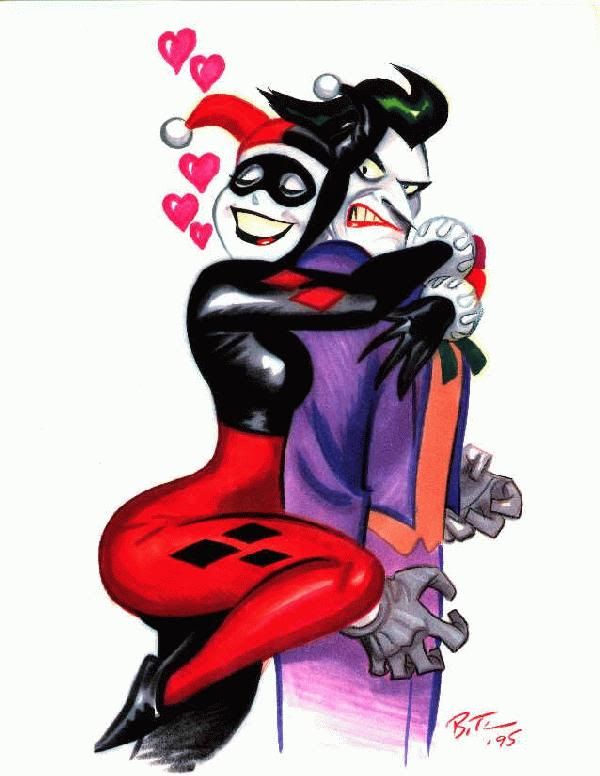 Awwwwwz....
This new Harley however...okay I'm gonna be 100% fair and say that I have NOT read any of The "Suicide Squad" AT ALL. Everything I'm saying is based solely off of observations, reading summaries, and looking over the comments of the people who ARE reading these books...and as you'll see below, they ain't happy:

HELL YEAH!!
MAJOR Kudos for her mentioning "Mad Love", GREAT episode for Harley's backstory !!

She gets it !

Unhappiness abounds...
"Where everything you love dies." DAMN!
Keep in mind that the MAJORITY of these commentator ARE NOT horny fanboys complaining about minor details, these are WOMEN expressing their disappointment in the handling of a character they loved. I wanna close with this guy who'll bring me to my final point.
You just lost a loyal 20 year comic book reader...think about that for a minutes DC...20 YEARS!
I LOVE the character of Harley, and I still do...the previous incarnations of her. Harley was a rare treat because she was sexy without being sexualized, she was complex, bubbly, cute, fun and we all wanted her to one day turn it around and get her life back on track...that and all us guys secretly (who am I kidding, not secretly) wanted a girlfriend who was just as devoted to us as Harley was to The Joker (thankfully I already found my Harley). Either way, this Harley is NOT my Harley and will never be MY Harley or accepted as the REAL Harley. And ultimately what's the point of ENTIRELY changing Harley? The only thing it accomplished is alienating fans you already had.
Was this Harley supposed to appeal to the generation of tits and ass, generic, faceless, scantly clad, women who look more like strippers than they do superheroes/villains? If that's the case then I shudder to think what they'll do to Zatanna and the other women of The DCU who, despite their choice of dress weren't sluts or anything of the sort. Ultimately we're all left with the question of "Just who in the hell was this reboot intended for?". I think I can agree with The Joker's assessment on the new...I won't call her Harley...
Yep...
Oh...yeah...and they made Beastboy red.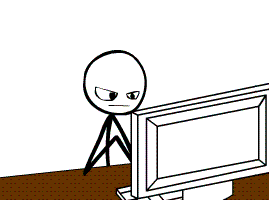 Fuck you DC Comics, I'm done and we're so over.
Honestly DC Comics...get your shit together.