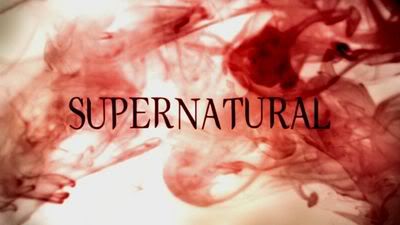 So it's time we had a little chat about our mutual friend "Supernatural", who has just been renewed for a 7th Season...for better or worse (worse in my opinion, but I digress).
So I've mentioned on and off that I started to have MAJOR problems with "Supernatural" during it's 5th Season (a bit before then) but I have never went into detail as to what those problems were exactly, so instead of making a lengthy Youtube video about it, that I'd undoubtedly have to script and record and do take after take after and probably end up ranting...I figured the best medium to get my thoughts out would be to write as a blog. So here it is, MY PROBLEMS WITH SUPERNATURAL!
Now before I continue I have to get a few things out of the way:
I'm a Christian, NO, I will NOT get into a religious debate with you on the validity of Christianity...that is NOT the topic of this blog and I have a blog dedicated to that topic already PLEASE argue with me over there, NOT HERE!
Despite my Christianity I VERY MUCH enjoyed "Supernatural" for all of 4 Seasons, and YES, my religious faith DID play a part in reducing my enjoyment of the series, but hopefully you'll see that I'm not just complaining.
The only reason I'm not watching any of the Seasons after 5 is because to me the story is OVER. Sam & Dean avenged their mother, killed Yellow Eyes and stopped The Apocalypse...WHO CARES WHAT HAPPENS AFTER THAT, BECAUSE I SURE AS HELL DON'T!
So with all the being said, let's dive in.
For starters I'd like to address Dean's disbelief in Angels. I'm NOT gonna sit here and say that Sam and Dean should be Christians, No. Instead I'm going to point out that in Season One, Episode Four "Phantom Traveler", Sam and Dean had to locate a demon on an airplane. The only problem is, that it's an airplane and everyone would be looking at them if Sam and Dean busted out their equipment and started demon hunting. So how did Dean locate the demon? Well he said "Christo" and waited for a Demon to react to it.


"Christo" is Greek for "Christ" and by using that Dean is acknowledging that the name "Christo" has power. If Dean is aware of that...then likewise he'd have to acknowledge that such a person actually existed in order to cause a demon to react to it. Likewise if he acknowledges that, then he'd have to acknowledge the entire package...which includes Ang
els.
Inconsistent much ?
But let's say for the sake of argument that Dean doesn't believe in Angels because he's never seen one (as said himself in episode 2.13 "Houses Of The Holy"). Okay, fair enough...BUT, he didn't know monsters were real prior to his dad revealing it to him. Also, if you're aware that demons exists, WHERE EXACTLY does he think demons come from? I know in "Supernatural" Lore Demons were once humans. Okay, I'll give them that...but what about Azazel a.k.a Yellow Eyes? In "Supernatural" Lore, regular demons...like Ruby were once humans, but Azazel and Alastair...they were once Angels (although the series makes no note of this but it wouldn't be too much of a stretch because Azazel & Alastair have exhibited powers beyond that of the regular demons Sam & Dean have faced).
Okay, but let's just say that Azazel & Alastair were once human as well...okay, that still leaves The Devil. Now you have to ask yourself the question, "How did The Devil get in Hell ?"...didn't put himself there, if he did then why is he trying to get out ? Dean has NO problem accepting The Devil's existence...BUT The Devil doesn't make much sense without the rest of the package. Also, HOW is Dean going to use the name of Christ and HOLY water against Demons and then turn around and say:
"There's no higher power, there's no God. There's just chaos and violence, random unpredictable evil, that comes outta nowhere, rips you to shreds." -Dean Winchester "Houses Of The Holy", Season Two, Episode Thirteen.
I have a question, HOW CAN YOU MAKE HOLY WATER IF THERE IS NO GOD TO MAKE IT HOLY?! Holy Water is Water that is prayed over and purified, the ONLY PROBLEM IS WHO ARE THEY PRAYING TO PURIFY IT?! If there is no God according to Dean, then why is it that he CONSTANTLY uses Him to combat demons ? AND DON'T TELL ME HE ISN'T! In Season Four, Episode Sixteen "On The Head Of A Pin", A cross is CLEARLY seen attached to The Holy Water while Dean is torturing Alastair. How can Dean use Holy Water when it ultimately means nothing ? (according to him that is).
I can see if Dean just didn't WORSHIP God, that'd be two different things entirely. In one respect Dean can acknowledge that God exists but just not want to have anything to do with Him, thus making Dean a Deist. But to FLAT OUT DENY HE EXISTS WHEN YOU'RE CONSTANTLY USING DEVICES DIRECTLY RELATED TO HIM is just PAINFULLY STUPID, am I making any sense here?
(Side Note: I could ALSO get into the theological argument that since Dean does not believe in God using His name would ultimately do nothing for him...but I'm not going to because this isn't the place and I promised not to get TOO Biblical and TRUST ME I COULD!!)
Let's move on. The Angels in "Supernatural" are ALSO one of the MOST IRRITATING thing about the later Seasons. Let's start with their overall personality. THEY'RE EMOTIONLESS?! WHAT?! The Bible makes MANY references to Angels rejoicing and worshiping God (NOTE: the ability to worship IS emotional.) I wouldn't have MUCH of a problem with portraying Angels as emotionless jerks IF "SUPERNATURAL" DIDN'T GO OUT OF IT'S WAY TO PORTRAY EVERY OTHER MYTHOLOGICAL CREATURE ACCURATELY!!
Keep in mind, I am a HUGE connoisseur of mythology. I knew what a Rugaru was, a Wendigo, Skinwalker, Doppleganger, YOU NAME IT! One of the things that impressed with "Supernatural" was the fact that it portrayed a LONG list of obscure mythological creatures ACCURATELY for the most part. So when an Angel was introduced I was EXCITED! Only to discover that these guys weren't Angels but rather Knock-Off Vulcans who tortured humans in order to get their way (ie, Zachariah). Ummm, NO! That's NOT HOW ANGELS ACT! How do I know that ? BECAUSE THE SOURCE MATERIAL FROM WHICH ANGELS COME FROM PORTRAYS THEM IN AN EXTREMELY DIFFERENT MANNER!
Read The Bible, SURE Angels are smiting here and there, but they're also helping, rejoicing, being kind, and are actually interested in and AWARE of the things mankind does. (There should be NO REASON why Castiel didn't understand Dean's "Back To The Future" or "Fatal Attraction" reference in Season Five, Episode Thirteen "The Song Remains The Same"). I mean after watching "Supernatural" can ANYONE tell me ONE distinguishing trait between The Angels & Demons ? ANYONE ?! ANYONE?! THAT'S RIGHT, YOU CAN'T BECAUSE THEY ACTED THE SAME!! In The Bible Angels are actually VERY COOL. I am VERY doubtful that an Angel would appear to you and FORCE you to do something by giving you stomach cancer (Season Five, Episode One "Sympathy For The Devil").
Case in point,
Luke 1:28-38
when an Angel appeared to Mary and told her she was going to have a baby even though she was a virgin, Mary didn't lament the fact that it'd ruin her reputation and people would consider her a whore (Which they did and still do), she just asked how such a thing was possible and then after getting the explanation, she agreed. If she had said "No." I doubt it would have resorted to physical violence...then again we'll never know that because no one back in those days was stupid enough to say "No." to an angel.
Another issue. Dean's gonna say "No.". So you seriously have a SURE FIRE way to stop Lucifer and you say "No.". Keep in mind that they DIDN'T STOP LUCIFER, they just put him back in the cage...he CAN break out again...what are they gonna do then ? Lucifer would have been DEAD AND GONE, Humanity would have been saved and that would have been the end of it all. The Angels made it sound like people were just going to die and that'd be it. NO, I read The Bible, I'm well aware of how the apocalypse is supposed to go and it ends with a New Earth and New Heaven not just random death for no purpose. And after all isn't that what Sam & Dean are working towards ? A World with no monsters where everyone is safe and secure ? Apparently not...
(SIDE NOTE: Keep in mind we're ALMOST finished with this, THANKS for reading this far.)
This NEXT tidbit is the 2nd from the DUMBEST THING EVER said on "Supernatural", and I ONLY say Second because my LAST gripe with this series is a DOZY!. In Season Five, Episode Six "I Believe The Children Are Our Future", Sam & Dean encounter a young boy who is revealed to be The Anti-Christ. This revelations leads to this exchange between Sam and Castiel:
SAM
Anyway, I don't get it. Jesse is the devil's son?
CASTIEL
No, of course not. Your Bible gets more wrong than it does right. The antichrist is not Lucifer's child. It's just demon spawn. But it is one of the devil's greatest weapons in the war against heaven.
Geez, That's interesting BECAUSE THE BIBLE SAYS NOTHING ABOUT THE ANTI-CHRIST BEING THE DEVIL'S SON!! THAT'S "THE OMEN". You wanna know what The Bible says about The Anti-Christ read
Rev 13
I can assure you that you will NOT FIND ANYTHING IN THERE ABOUT HIM BEING SATAN'S SON! Furthermore how can it be WRONG when it doesn't even say anything to that effect ? How is it that Castiel (being an Angel remember) IS UNAWARE OF WHAT'S IN THE BIBLE?! I understand "Supernatural" is a work of fiction but it's making a reference to a book that exists and people are able to fact check things when something is said about that book.
It'd be the same way if I said that Superman ALWAYS had his power. NO we can fact check and say Superman ONLY has his powers under a Yellow sun, under a Red Sun he loses them. Or RATHER that'd be like Superman HIMSELF saying he's ALWAYS had his powers DESPITE BEING FULLY AWARE THAT HE GETS THEM FROM THE YELLOW SUN. So basically Castiel is denying a bit of information that ISN'T IN THE BOOK HE'S REFERENCING AND CLAIMING IT'S WRONG DESPITE GETTING THE ENTIRE REFERENCE WRONG DESPITE BEING A BEING IN WHICH THE BOOK MAKES NUMEROUS REFERENCE TO AND DESPITE BEING A DIRECT CREATION FROM THE PERSON WHO CREATED THE BOOK AND YET NOT HAVING KNOWLEDGE OF IT?!
HOW DOES THAT MAKE ANY SENSE ?!
So NOT ONLY are Angels COMPLETELY out of character BUT NOW THEY'RE UNFAMILIAR WITH THE BIBLE AS WELL?! REALLY?! Wow.
And now we come to my BIGGEST problem with this series and the MAIN reason why I considered it to be one of THE BIGGEST DISAPPOINTMENTS EVER!
THIS CHICK RIGHT HERE! ANNA MILTON!
Why is Anna Milton the CATALYST for my frustration with this series? Because in my LONG standing history of watching TV (and trust me, it's a LONG history) I have YET to encounter a character as UNFATHOMABLY, UNFLINCHINGLY, IMMEASURABLY STUPID AS ANNA MILTON! Just so we're on the same page and you remember this ABSOLUTE idiot, I'm going to give you Anna's back story.
Anna was an Angel (Castiel's superior actually) who got tired of being an angel and ripped out her "Grace", fell to Earth and was reborn as a human.
So how is she THE DUMBEST CHARACTER EVER you ask ? Well in the aforementioned episode "On The Head Of A Pin"Uriel (another angel) is revealed to be the killer and he fights Castiel. Several statements are said:
CASTIEL
You can't win, Uriel. I still serve God.
URIEL
You haven't even met the man. There is no will. No wrath. No God.
ANNA
Maybe. Or maybe not. But there's still me.
MAYBE?! MAYBE?! Okay...Anna is NOT HUMAN, SHE IS AN ANGEL!! IF THERE IS NO GOD THEN HOW DO YOU ACCOUNT FOR YOUR OWN EXISTENCE?! I can understand Dean saying "There is no God.", Humans have denied God for YEARS. But an ANGEL?! COME ON, NOT EVEN SATAN DENIES GOD'S EXISTENCE (
James 2:19
). So WHAT THE HELL DOES SHE MEAN BY "MAYBE?!" There is NO MAYBE (at least not for her). I mean logically, she acknowledge that she CUT OUT HER GRACE AND FELL FROM HEAVEN. HOW CAN YOU EVEN HAVE GRACE TO CUT OUT AND A HEAVEN TO FALL FROM IF THERE IS NO GOD TO GIVE YOU THAT GRACE AND CREATE A HEAVEN?!
THAT IS THE DUMBEST THING EVER SAID IN THE HISTORY OF ANYTHING EVER!
That'd be like me saying "Maybe I have parents and maybe I don't.". The VERY FACT THAT I EXIST MEANS I HAVE PARENTS WHETHER I CAN SEE THEM OR NOT! I grew up without a father BUT I NEVER DENIED THAT A FATHER WAS INVOLVED IN PROGENY. So BY THIS STATEMENT ALONE, Anna is saying that she is unaware of whether or not God exists...DESPITE BEING A DIRECT CREATION FROM HIM, DESPITE HAVING GRACE FROM HIM, DESPITE FALLING FROM HEAVEN, DESPITE BEING AWARE OF OTHER ANGELS WHO HAVE SEEN HIM, DESPITE BEING AWARE OF THE DEVIL. DESPITE ALL OF THESE THINGS THAT SHE IS AWARE OF, SHE STILL SAYS "MAYBE." ?!
*clears throat*
I rest my case. Granted I could have ripped this entire series to shreds BUT I didn't. I just pointed a few logical inconsistencies that BUGGED me to the point where I could no longer ignore them. I won't deny that "Supernatural" is still one of the BEST shows ever written about this particular subject BUT once they included Christianity they messed up COMPLETELY. I COULD have addressed the FACT that if The Christian God DOES exists in The "Supernatural" universe than EVERY other god they've encountered was just a demon posing as a god since in Christianity God is THE ONLY GOD (
Isa 44:6
,
43:10
,
46:9
). But I'm not going to. "Supernatural" would STILL be a great show if it hadn't attempted to write in Christianity as there are a GREAT multitude of various demonic entities that aren't directly related to Hell and Christianity that "Supernatural" could have exploited. The Japanese have onis, The Greeks have various lore about evil spirits ect. ect.
In one of my favorite episodes of the later seasons Season Five, Episode Nineteen "Hammer Of The Gods" THAT could have been a GREAT path of the series to go AFTER killing Azazel, Sam & Dean dealing with a bunch of Pagans Gods who are trying to take the world over as their own by sending their various minions to take them out. Instead, Eric Kripke made a horrible attempt to include Christianity and it just mucked things up for a series that was going WELL WITHOUT IT! I would have ENJOYED the story arc of Eve (SIDE NOTE: Why is her name Eve ? Why not just make her The Goddess
Echidna
? Because guess what ? SHE ACTUALLY IS THE MOTHER OF ALL MONSTERS!) IF she was a character that was involved from the BEGINNING...but now she's just playing second fiddle to The DAMN APOCALYPSE!!
Anyway, that'll do it for me. I HOPE I've answered that question definitively and laid this matter to rest. Now I gotta go make some pizza rolls my stomach is killing me!