Howdy ya'll, it's me with another blog, this time a positive one (for a change). For those of you who don't know I am a HUGE Power Rangers Fan. I, like many of you, was a Power Rangers Pure-ist (which means that I think ALL other teams pale in comparison to the first team).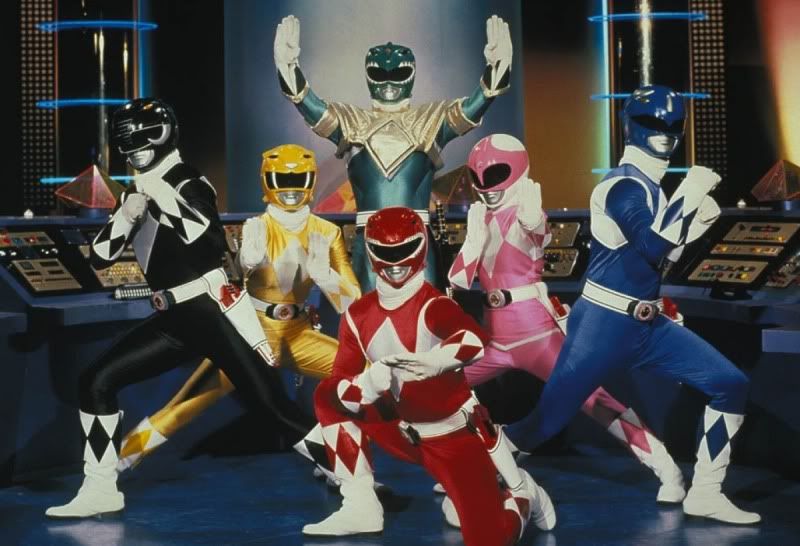 Yeah, these guys!
I stayed with The Power Rangers Franchise all the way up until "In Space", I blocked "Turbo" from my memory. However I have ALWAYS kept a special place in my heart for "Power Rangers: Zeo".
and those outfits are freakin' awesome!!
Despite having not watched Power Rangers for a LONG time, I still kept abreast of all the goings-on in the universe and the new teams ect. ect. I swore to myself that one day I'd look into those new teams and see if I was prejudging them too harshly. THANKFULLY I didn't have to because Comicbook Reviewer and Power Rangers aficionado Linkara came out his new series
HISTORY OF POWER RANGERS
, where reviews each series of Power Rangers. As of this review he'll be on "Power Rangers: S.P.D". If you have no seen HISTORY OF POWER RANGERS, I STRONGLY suggest you check it out, it is INCREDIBLE and recommended viewing for ALL Power Ranger fans.
This brings me to this blog. I was watching Linkara review all the new series and it was great, but I wanted to be the explorer, I wanted to discover a series and rekindle my love for Power Rangers. After all,
Zipblockgory
, a good friend of mine had the Sentai Series to review Gokeiger and he'll be reviewing Go-Buster in the future, not mention
HajimeNoJMo
review of the original Sentais and
MistareFusion
and his reviews comparing the Super Sentai originals to The Americans are masterful and well crafted. So this time I wanted to try my hand it, and at first I decided to review "Tensou Sentai Goseiger"!!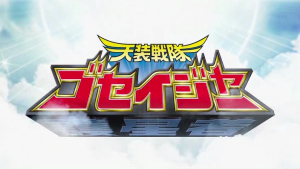 Unfortunately my episode supply ran dry...so then I decided to review the original Sentai that spawned The Might Morphin' Power Rangers, Zyuranger!!
Ran into the same problem though...so I was up that creek whose name cannot be said. What was I to do? I wanted to watch Power Rangers but I didn't wanna tread on old ground. And I decided SCREW IT!! I'm gonna grab one of these New Power Ranger series and give it a shot. Based on the review of Linkara's HISTORY OF POWER RANGERS, the other series weren't bad at all, some of them were down right bad ass, "Time Force" and "Wild Force" to name a few. So I decided to pick up "Power Rangers: Mystic Force" and BOY OH BOY WAS I NOT DISAPPOINTED!! So with all that Preamble, let's start the review.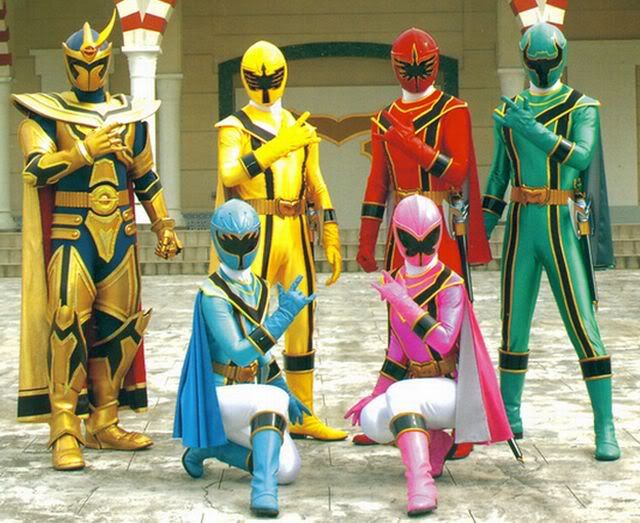 Ya gotta admit, those outfits are awesome!!
"Power Rangers: Mystic Force" was a TREAT to say the least, I cannot express just how much I enjoyed this series and how much The Power Rangers franchise has grown since I watched it. For starters the most noticeable things were the storytelling and the acting. Although cheesy in some places (let's face it, it's Power Rangers), all the characters came off as believable and well rounded and likeable. The storytelling was also very good (remember this is a kid's show) but ultimately for a kid's show it kept me entertained and interested VERY much so, even to the point where I couldn't wait to watch the next episode and I willingly broke my One Episode A Day Rule just to see the conclusion of certain story arches. Before I touch on that, let me introduce our rangers.
Nick is worthy of being The Red Ranger, unlike most Red Rangers in the Power Rangers series, Nick doesn't exactly have that confident, sure of himself attitude. Nick is a bit of an enigma. He's very strong willed and determined but not aggressively so. Nick is a Good Guy and always willing to help out (this is made evident by the 1st episode).
Chip, the Yellow Ranger is by far my favorite, mostly because he's a geek. Unlike most people who become Power Rangers, Chip was ALL IN, and embraced his new life as a Power Ranger with arms wide open. Not to mention he has a strong sense of loyalty & friendship (like yours truly). Chip is always willing to try things out and make new discoveries. Not to mention in the 2 parter "Stranger Within" Chip goes toe-to-toe with Koragg and manages to hold his own quite well and that's BAD ASS!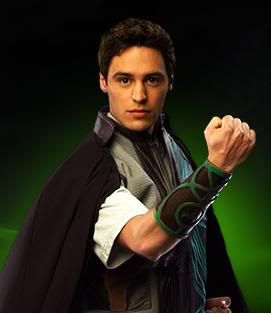 Xander, The Green Ranger, is a cool character (who I had the pleasure of knowing BEFORE I watched "Mystic Force", because of his appearance in "Operation Overdrive" in the episode "Once A Ranger"). He's the pretty boy of the group, but despite this Xander is hardheaded, a bit full of himself and kinda lazy, BUT when the chips are down Xander comes through in full effect.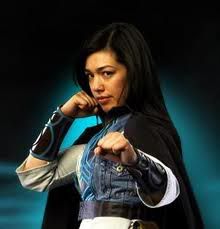 Madison, The Blue Ranger is Vida's Sister (The Pink Ranger) and is essentially the non-confrontational member of the group, rather than fight she tries to seek out solutions that can solve the problem without it coming to blows. She keeps the level head the rest of the group doesn't very much. This is made evident in the 3 parter "Dark Wish" when Madison holds Nick back from fighting Korragg to hear what he has to say.
Last but not least, Vida, The Pink Ranger and the resident BAD ASS of the group. Vida is as furious as she looks. She's a big personality, stubborn, strong willed and ALWAYS ready for a fight, despite this she does have a soft side and isn't as much of a Tom-Boy as you'd think she is. This is made evident in "Stranger Within" and "The Return".
For those of you who don't know, Power Rangers has a pattern to follow, each team has their Zordon and Alpha character. A Character who provides the Rangers with their powers and teaches them how to use it. In "Mystic Force" that character is Udonna and MAN OH MAN IS THIS WOMAN A BEAST!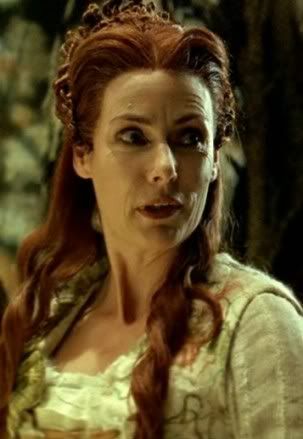 Udonna is a Sorceresses of Light Magic, and despite being an older woman, she is NOTHING to mess with. In the VERY FIRST episode, she goes toe-to-toe with Koragg and a bunch of the foot soldiers of this series who are called Hidiacs/Styxoids. She was a teacher who took an active role in not only teaching the Rangers BUT fighting along side them herself...that is of course until Koragg stole her Snow Staff, BUT fear not, because this dynamic wasn't changed! The 6th man showed up around Episode 14, DAGGERON!!
Daggeron is the Golden clad Dude along with the rangers in the group shot, The Solaris Knight. I liked Daggeron the VERY second I saw him (not to mention he probably has the BEST armor of any Power Ranger series ever...seriously). Daggeron is once again a unique character because he served as not only a fighter along side of the Rangers BUT he was a teacher as well and a damn good one. He came off as actually wise and knowing what he was doing, and proved himself to be a more than capable fighter. This guy was just an all around bad ass. Filling in the role of Alpha 5 is Udonna's niece and apprentice Clare.
Clare comes off as a bumbling side-kick BUT she's REALLY not. There was a scene where it ALMOST looked as if she was a complete moron BUT it turns out she wasn't. Not to mention her bumbling nature eventually stops after the 2 parter "The Gatekeeper" and Clare quickly becomes a very competent sorceress herself. Not to mention she plays a VERY instrumental part in a few episodes. Now let's get to the BAD GUYS!!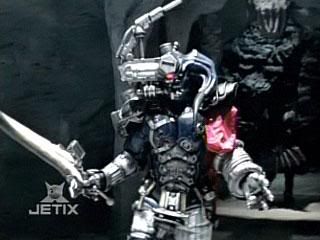 First up we have Morticon, the leader of The Underworld Forces. Morticon is a BAD ASS, this made clear when he grabs the Megazord, tosses it in the air and clips it with his sword and breaks it apart. Outside from that, Morticon sounds like Hercule from "Dragonball Z" and is very adamant about escaping The Pit, to achieve the will of THE MASTER! He isn't exactly a Boss perse, he doesn't come off as cunning or clever, he is mostly a warrior. Can't knock that.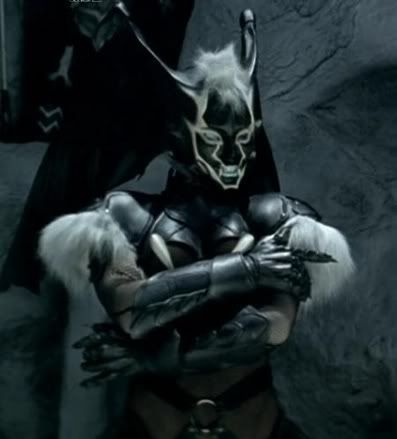 Next up we have Necrolai, The Queen Of The Vampires. She is another one of my favorite characters. Her and Koragg stab each other in the back SO many times it's hilarious. Unlike Morticon however, Necrolai is cunning, conniving and downright underhanded sometimes. All of this is to say that she is an opportunist and a DAMN good one. This personality trait eventually pays off for her in the end, so kudos!
And then we have Imperious. This guy is a MAJOR douche and I love it. The great thing about him is he's a villain you love to hate. Imperious is smart, cunning, clever, COMPLETELY dishonorable and untrustworthy (this often puts him at odds with Koragg). Imperious is even so much of a bad guy that he makes an attempt to kill THE MASTER. Imperious turns on his own people. This is because Imperious was once a good guy who turned to the dark side, so betrayal is kinda his shtick. This brings be to the one and only Koragg!!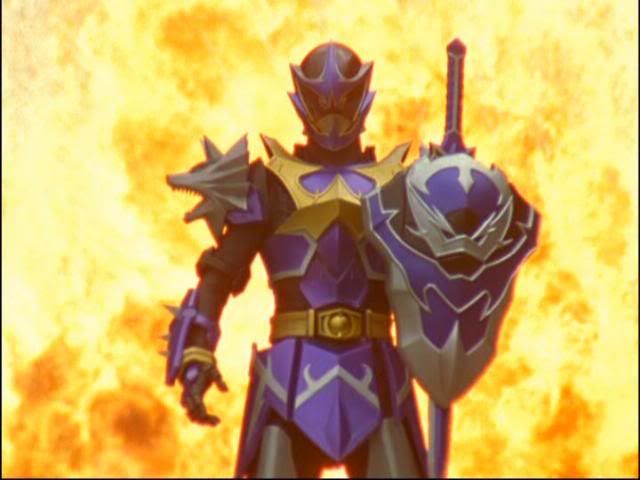 KORAGG, F*CK YEAH!!
Koragg is a Dark Knight, a bad guy yes, but he fights with honor and loyalty. He is very reminiscent of Ecliptor!
The original Dark Knight...
Much like Ecliptor, Koragg has a rivalry with The Red Ranger and is actually able to telepathically communicate to him, which I greatly enjoyed. The unique relationship Koragg and Nick shared *clears throat* share, is one that I enjoy very much. Both of them are very strong willed warriors who share the same virtues with VERY different goals. Koragg, like most Generals in the Power Rangers realm is seen as a force to be reckoned with, a bad ass of bad asses and he REALLY shows it in his many battles with The Rangers. Koragg is the loyal servant of THE MASTER and no one else...which brings me to the big bad booty daddy who's running the show, THE MASTER!
The Master is never given a name directly BUT he is like the lord of all Dark Magic. His presence is felt throughout the series and he is constantly refereed to as the man running the show. He looks like a relative of Cthuluh.
Related?
I won't discuss The Master because discussing him would lead to spoilers and I'm trying to keep this spoiler-free as to not step on Linkara's toes when The Mystic Force episode of HISTORY OF POWER RANGERS finally comes out. As for secondary characters we have:
Toby Slambrook, another of my favorite characters! He owns the record store where the Rangers work and MAN is this guy AWESOME! He's very energetic, understanding, and isn't too hard on his employes are at all. I wish I had a boss like him. Not to mention he plays apart in the episode "Petrified Xander", where Toby's puzzle solving skills enables him to unlock a treasure chest for The Rangers. Next up, we have Leelee.
Leelee is a frequent costumer as Toby's record shop and although innocuous in the beginning, her character really shaped up to be something VERY cool, and this is where I compliment the writing of this series. Next up we have Phineas.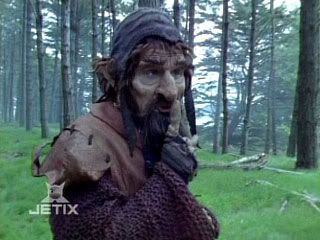 Phineas is a Troblin (Troll & Goblin) who befriends The Rangers and occasionally helps them out when the Rangers are stuck at an impasse of action. Phineas comes off as a goofy character and he is mostly there for comic relief, BUT his inadvertent simple wisdom often times inspires the Rangers to try a new course of action. His inability to realize this makes him funny, but he's not just there for comic relief. Phineas does indeed have a rather sizable role in the scheme of things, and once again this is credited to the writing. Last but not least is Jenji;
Unfortunately I missed his debut episode BUT Jenji is a genie that works hand and hand with Daggeron (who saved Jenji's life). Jenji is the only character who doesn't do much BUT he does have a role in "Dark Wish".
With all the characters listed I have to say that the greatest strength Mystic Force has going for it is the fact that EVERY SINGLE CHARACTER PLAYS A PART IN THE GRAND SCHEME OF THINGS! All the characters I listed above are important to the plot have a role to fulfill that comes to the end result of the series. There are subplots that are seeded earlier enough in the series as to not come completely from left field and all in all this series is GREAT! It's not perfect, there are a few stutters and bumps here and there and one episode particular phoned in...specifically "The Return". But overall, it is a VERY good series WORTH checking out! Some of my favorite episodes included "Stranger Within" Parts 1 & 2, "The Gatekeeper" Parts 1 & 2, "The Hunter".
As for other things, in the series, when I first heard the theme song I ABSOLUTELY HATED IT! But after watching how the opening sequence works and watching the series it's self, it really complimented it very nicely. I doubt I'll feel the same way about the
"Operation Overdrive" theme
though...that still sucks ass in my opinion. But I'll let you be the judge!
All in all, I hope you guys check out this series I STRONGLY recommend it! You can find it on Netflix and online if you look hard enough. That'll do it for me and I'll try to track down "Power Rangers: RPM" I MUST review that series, have you HEARD that theme song?!