Okay, so I know I've toggled back and forth on doing a video or text review of this series, but I ultimately decided on doing a text review (yes, you have to read, SUCK IT UP!). With all that being said, let's dive into this series. "Power Rangers: RPM".
I will say that I was somewhat disappointed with the series before it even started, and I'll explain why. It has EVERYTHING to do with it's theme song. You see when I first heard the theme song of "Power Rangers: RPM" I was IMMEDIATELY sold! Yes, I wanted to watch the series SOLELY based on it's theme song. The theme song basically summed up the entire premise in a HARD rock, song that was worthy of Ron Wasserman!
Unfortunately...this was merely a demo...and the actually theme song is...
Which sounds like it was ripped for the laziest hack who used to work for Hot Wheels. So already I was annoyed with the series, what made things much worse was the Car Theme...which hasn't been done since "Power Rangers: Turbo" (and for good reason).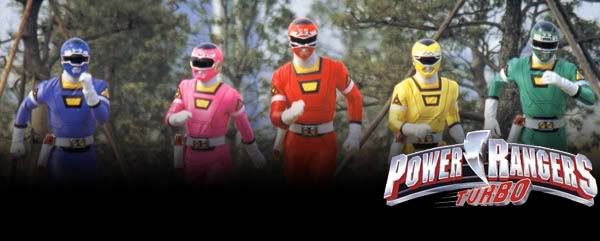 Relax, it never happened...
The Car Theme became silly, especially with the ridiculous rotator cogs on the wrist of the uniforms, and while we're on the topic, let's talk about the uniforms.
Personally, I think they're freakin' horrible. I think my biggest problem is the fact that it's just too busy, compared to the bad ass stream-line look of previous uniforms ("Lost Galaxy" aside). So this series was NOT getting off to a good start with me, but I stuck with it and was moderately pleased with how things turned out.
I will say that out of all the Power Ranger series I've seen so far, "RPM" is undeniably the most mature, dealing with themes such as death, identity, crime, disease, moral ambiguity, and not to mention The end of the world (Oh yeah!). "RPM" starts off as "Terminator" for kids, we're introduced to a new world in which an evil computer virus has taken over the world and forced humanity into their last stronghold The Dome City of Cornith. So this is already starting off as a unique series for several reasons, The Bad Guy has won and this is the FIRST Power Ranger series to take place in a completely different universe than other series (although we don't find this out until "Power Rangers: Samurai" but still). So with an already interesting premise (for a kid's show mind you) I was willing to sit back and enjoy the story. Let's meet our heroes.
First up we have Scott Truman, Red Ranger and leader of the team. I liked Scott a lot, especially his relationship with Dillon (which I'll elaborate on later). Scott was in the military and lost his older brother in the final attack before Cornith was sealed. He's also a unique character because he's related to Cornith's Chief Of Security Col. Mason Truman who was previously his superior, but with Scott being a Power Ranger and a privately supported organization, Scott no longer takes orders from him. I would have liked them to explore how he ended up leaving the military to become a Power Ranger, but oh well. Scott comes off as a leader, level-headed and solidifies his command very well.
Next up we have Flynn Mac Allister, The Blue Ranger, who is SCOTTISH! Flynn is an awesome character, much like Charlie in "Mystic Force", Flynn is a comic book fan and is more than willing to embrace his status as a super hero. Not to mention he's a mechanic...and for some reason I have a soft spot for mechanics. But in all honesty, Flynn's personality I think is the closest to how I'd act as a Power Ranger, he's ALWAYS willing to help, ALWAYS willing to try and that's what makes him an awesome character. I'd consider him the secondary comic relief character but he's just too awesome!
And we've come to the aforementioned "Dillon", The Black Ranger. "Dillon" is ultimately the series main protagonist in more than a few ways, he's the first character we meet, and he's the character through which we're introduced to this new world. But deeper than that, Dillon's character arc weaves it's self seamlessly into other character arcs, which makes for some good drama that hasn't been seen since "Power Rangers" In Space" and if you have half a brain and have seen "In Space" you'll know what I mean. As a character himself, Dillon comes off as the resident bad ass, he doesn't take any guff, doesn't crack many jokes but he does kick ass. He's your stereo-typical loner character and given his scrambled memory and the fact that he doesn't remember his name, we can easily understand why he isn't exactly the friendliest guy around. This isn't to say that he doesn't have a soft spot. His relationship with Scott is a great one that is borderline rivalry and respect. But the best relationship is his relationship with Ziggy, there's an amusing scene when Dillon runs off and Ziggy threatens to bring him back with results so humorous Dillon has no choice but to come back. Dillon's relationship with Summer isn't exactly romantic, it's hinted that Summer is into Dillon but it doesn't go any further than that. Ultimately, I REALLY like Dillon and he's a prime example of a loner character done RIGHT!...that and he looks like Andy Samberg.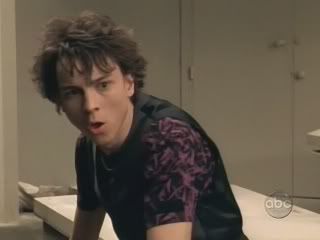 ZIGGY! Our Green Ranger and prime comic relief. I like Ziggy, he's a bit of a spazz but for good reason since some of the most powerful criminals in Corinth city are looking to kill him. Ziggy provides some good humor for the series, but I'm a little disappointed with the character since he never really got his moment to shine. You know what I mean, every now and then a comic relief character will get into a situation and prove themselves to be complete bad asses when the situation calls for it...such didn't happen for Ziggy and that left me with a bad taste in my mouth. But overall I can't hate on The Zig-meister. I love his relationship with Dillon, as being one of the few characters who'll actually reach out to him, but what I love even more is his relationship with Dr. K...which I really wish they would've made more grudgingly romantic, similar to Ash and Misty. But in the end there is some closure there so I guess I can't be too upset but still, I like Ziggy a lot.
Summer is a bit of a tough cookie because when we get her backstory we're not exactly rooting for her until the tail end. All that aside, Summer is a good character as well and her relationship with Dillon is one that makes sense since she adopts Dillon as a project. She's the driving force behind encouraging Dillon in his search for answers. Summer is also a fighter, watching her kick ass in a wedding dress is pretty awesome. She's generally the most accepting and cautious of the group, but she has her headstrong moments (usually when accompanying Dillon on his solo missions). Her and Ziggy are the only two who can keep Dillon anchored.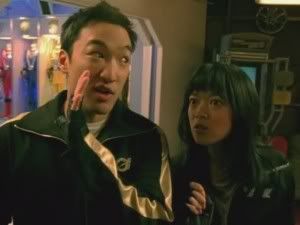 Gem and Gemma...BY FAR THE MOST ANNOYING CHARACTERS ON THIS SHOW! Their blatant immaturity, although cute at times became INCREDIBLY grating and annoying, their constant need to finish each others sentences and their constant upbeat attitudes drove me mad. For a series that (in my book) already started off with a few strikes against it, I REALLY didn't need characters like this. Considering that previous 6th Rangers have ALWAYS been Bad-Asses, these two are an absolute disgrace for what it means to be a 6th ranger. Gemma does get less annoying when she teams up with Flynn for awhile but after that she's back to being horribly annoying. The less said about these two the better...
Dr. K...you saucy little minx you. I apologize but I have a thing for quirky, highly intelligent chicks who talk down to people...and man oh man is Dr. K that chick. She's pretty much The Zordon of the group and her matter-of-fact, logical way of speaking makes her the perfect mesh for the team since she's all about logic and solving the problems at hand. It takes her awhile to come out of her shell but when she does it's very genuine and honest. The Rangers all look to her for instructions and despite being younger than ALL of them (she's apparently 17 in the series) none of The Rangers (except for Ziggy) question her intelligence or mentorship. I absolutely LOVE her character and personality, and given her backstory it's no small mystery why she is the way she is and why she's taken such a shine to Ziggy even if it's grudgingly. Oh Dr. K, you saucy little minx...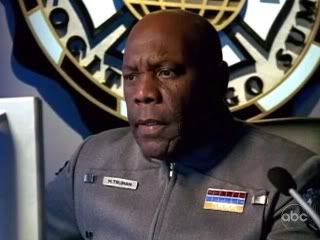 Next up we have Scott's father Col. Mason Truman, who controls the military aspect of Corinth City, who mostly specialize in supporting the rangers. He's a great character because despite having concern for his son Scott, he doesn't interfere and offers his son whatever support he needs. He's a bit of a distant man (no small mystery why, considering he's already lost a son) but nonetheless he remains a man in control and all about the task regardless of the past (as we'll see in a particular episode). He can always be counted on to do the right thing and even when he messes up, he's quick to admit it and correct it as best as he can. So with the heroes out of the way let's touch on the bad guys.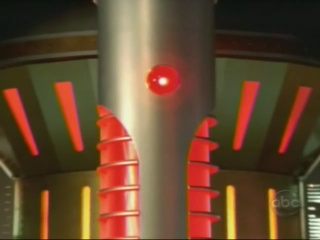 First up we have Venjix (yes, that name was used in "Forever Red"). Venjix is "Power Ranger's" answer to HAL9000, although Venjix doesn't speak in the cold, monotone voice like HAL, Venjix's voice is LOUD, BOOMING and PROUD! Despite being a machine (sentient computer virus) Venjix has a personality and has been shown to express emotions such as pride, arrogance, frustration and Sadistic amusement. As a bad guy Venjix works perfectly, and his role in the series only becomes better when he becomes mobile, with his first body.
However this body gets destroyed and he eventually gets a new body made out of the spare parts of his previous General Crunch. I have to say I like this body more so than his final one. Mostly because his final body looks like a re-imagining of King Mondo.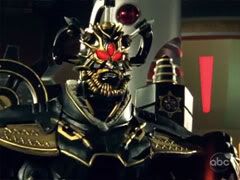 All that aside, Venjix came off as a REAL threat and was generally a bad ass when he fought the rangers. Next up we have...
Kilobyte, Venjix has 2 other Generals but they're so insignificant that I can't be bothered to really include them in this review, Kilobyte is the man here. He comes off as a stuffy English gentlemen with a VERY hot mean-streak. He doesn't show up until later in the series but when he does he proves himself to be a major bad ass, who isn't above cheating to complete his goals. He's loyal to a point but ultimately looks out for himself and you can't hate him for it. Last but not least the saving grace of this series next to Dr. K...
Tenaya 7...By far the hottest Power Rangers villain next to Astromena...and Tenaya 7 blows Astronema away. Not only is she hot but she's a time test bad ass, proving time and time again that she can walk through the ranger fairly easily, Dillon being the only one who can give her a real challenge. Tenaya 7 is clever, smart and unwilling to put up with mess from anyone, not even Venjix. Her character arc is an obvious one and any elaboration on her character will result in a multitude of spoilers that will be obvious to you once you watch the series, so I'll leave it at this: Whenever she was on screen my enjoyment of the series increased 10 fold.
"Power Rangers: RPM" got off to a rocky start in my opinion but with some likable characters, an interesting story, mature themes with a light-hearted execution, I was more than willing to forgive it's shortcomings. So I'll give "Power Rangers: RPM" a 5 out of 10. For the writers who wanted "Power Rangers: Turbo" to be a darker season, they got their wish with "Power Rangers: RPM" and for that I can't hate it. So I recommend watching it...but mostly for Tenaya 7 and Dr. K. Anyways that'll do it for me for now. Hopefully my next review will be "Jungle Fury" but at the moment I can't seem to get my hands on it, so until then may the power protect you all!