Okay, okay, after weeks of mediocre cop drama, "Gotham" is finally starting to feel comic booky and pulpish and that's a MAJOR plus. This week we find Bullock and Gordon chasing down an old enemy of Bullock's past known as "The Goat". This episode was a MAJOR step up from the previous episodes and that's largely due to the VERY noticable and welcomed lack of Fish Mooney. Let's get to the episode proper after the break.
Taking a break from budding mob wars and Batman easter eggs, we're treated to a serial killer with a comicbook flare and penchant for costumes. I enjoyed this episode because I finally felt like I was in Gotham and not some generic city over run with crime. I was glad that this episode showed a different side of Bullock while maintaining his gruff exterior and it also showed him as a competent detective. This episode basically established that Bullock and Gordon are two sides of the same coin, that Bullock was Gordon at one point in his career and became who he is now. Sort of a grim look into Gordon's future if he didn't have anybody.
As far as The Goat goes, I actually like him and I was thinking Dix's conspiracy theory was correct, and perhaps maybe there was a legion of people out there training to become The Goat, things like that really tickle my fancy, and when you wanna incorporate ritualistic serial murders, the best place to do that would be in a TV show series adapted from a comic book. And the reveal was also comic bookish as well, but again it worked because this felt like a comic book.
Oswald returns to see his mother who suspects that Oswald got "tangled up in some hussy's demon purse." (I spent a good amount of time laughing at that). Oswald continues to be the most compelling character on this series, as his well mannered and soft spoken charm makes him so engaging because we know underneath all of that is a peerless murderer. I gave him some flack of spilling the beans to Salvatore Maroni, but now he's spilled the beans to the entire GCPD, so now EVERYONE knows he's alive, which is great because I was NOT looking forward to a whole thing of Gordon, Barbra, Renee going around in circles about who to trust, f*ck that noise.
Hi, I'm Oswald Chesterfield Cobblepot, and I'm here to save this episode.
Oswald is playing a dangerous game letting everyone know he's alive, especially Harvey who's already in good with Fish Mooney, that can't bode well for our suit wearing limping friend. Still, I gotta imagine the end game here would be having his cause Falcone and Maroni to go to war, and ultimately snitch on both sides of it. He's in a very unique position to bring both houses down to the ground and build himself up. Hopefully, that's what he does. On another note, I may hate myself for saying this but Nygma's growing on me. While I still hate the fact that he tells riddles (and not in a clever fashion, mind you), his awkwardness and OCDness does make me chuckle a bit, however I don't see the man that'll eventually become my favorite Batman villain. Hopefully they course correct this guy SOON.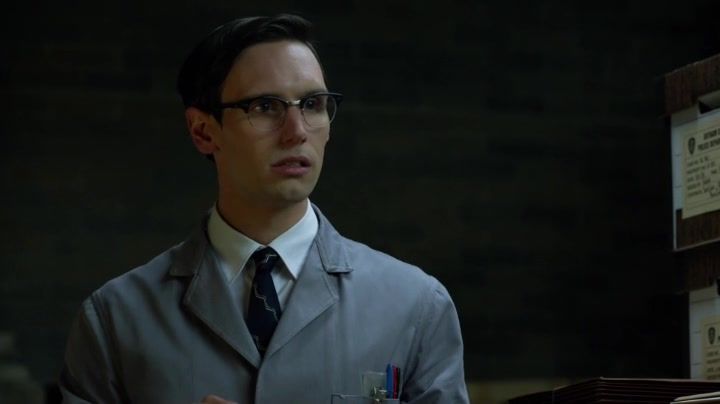 Please don't screw him up, please don't screw him up.
That being said, this episode was a MAJOR improvement from the previous 5 we've got so far. If they manage to keep up with the pulp feel of the next few episodes and keep Fish Mooney off the screen for as long as humanly possible until her inevitable death, that'd be WONDERFUL and this show may have a chance of living past it's 1st season. Until then, the next episode looks to be a homerun as it will focus entirely on The Penguin and that's GREAT! I can't believe I'm saying this, but I'm really looking forward to the next episode of "Gotham". Until then...