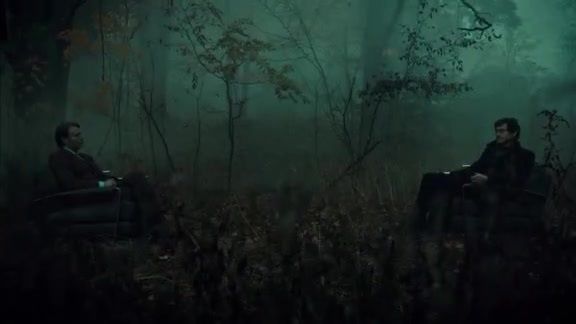 Episodes like this make me feel like the show is losing it's damn mind and in a good way, more or less. In this episode we continue with Will Graham on his search for Hannibal by exploring his "Memory Palace", this leads Graham to Lecter's childhood home in Lithuania. Not much else subplot wise going on in this episode, but it's the slow burn that counts and pretty soon things will heat up. Let's dive in.
There was a strong theme of Love & Betrayal in this episode, and while I'm sure a lot of Slash Fiction writers have already "shipped" Hannibal and Will, in the sense of a very deep friendship, I don't think they're too off the mark. Clearly these two men really do like each other but at the same time loathe each other (at least, I would hope). But Will is fascinated by Hannibal because when he's around him he truly feels like himself...but who exactly is Will Graham is the real question. Or better yet, who did Hannibal convince Will Graham he is?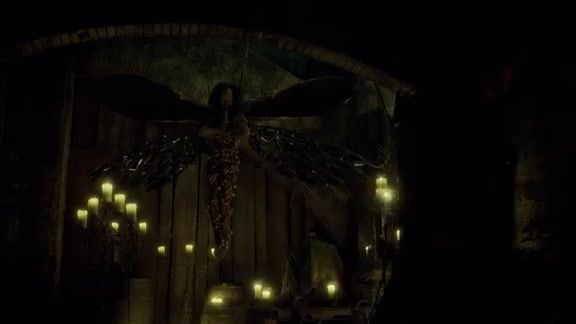 Obvious, "Silence Of The Lambs" imagery is obvious.
Will seems to be wanting to become Hannibal but to what end? He forgave for Abigail, and while mutilating Randall Tier was part of his cover, turning Hannibal's prisoner into a butterfly was purely Will's idea. Will Hannibal ever see this butterfly? Doubtful. The butterfly is an obvious metaphor for transformation but what's really going on here? Will wants Hannibal and then what? Does he want to catch him, help him escape, eat him? Is Will Graham still a hero? He told Inspector Pazzi that he wasn't sure which side he was on, I'm beginning to think he's being honest and if that's the case, Will is far more confused than he's ever been.
Hannibal appears to be acting impulsively and while his actions have been masked, he's none the less leaving a trail of bodies (traceable bodies) in his wake. Of course, his recklessness is draw out his enemies (Will, Jack, Dr. Chilton and of course Mason Verger). However, while Jack is there to rescue his protege', Will is there for Hannibal and in a sense Will is becoming Hannibal...more or less, Chiyoh even realized that Will was Hannibal's success of manipulation. There's this theme between several the characters that
"They just wanted to see what would happen."
Hannibal did it, Dr. DeMaurier did it and now Will's doing it. Was it Will's intention to have the prisoner attack Chiyoh? Will denies it, but deep down he probably knew.
"Technically, you killed him.", so wonderful to see this show embracing Hannibal's dry wit and dark humor.
Getting back on the topic of love & betrayal, Mischa Lecter was brought up and in a bit of vague detail but enough to get some assumptions going. Apparently, Hannibal ate Mischa, this much is clear but the circumstances which lead to her being consumed to by her older brother is left mysterious (and rightfully so, for now). Was incest involved? Wouldn't surprise me or was Mischa just as much of a manipulator as Hannibal is? So many questions, so much insanity but I'm loving every crazy minute of it. Catch you guys next time.