As you guys can tell from my review of the first episode of this season, I was really vibing with it, Sam Underwood came on the scene as Luke and Mark, two French twins who committed a ghastly massacre on a subway, remnants of Joe Carroll's cult were still around and Joe was revealed to be alive, having faked his death. Things were looking fairly decent for the start of the second season and then...
"the female Joe Carroll"
was EXTREMELY lame, ALMOST as lame as her (according to Joe) "
international house of psychos"
(that thankfully lasted for all of one episode). The concept behind a family of serial killers was interesting but the execution was ABSOLUTELY HORRIBLE! Considering Luke & Mark's behavior of sitting down and breaking bread with dead people, I was 100% certain they were orphans looking to Joe Carroll as a father figure, WHICH WOULD HAVE BEEN AWESOME! But instead we got a bland and uninteresting
"Mommy, Dearest"
character that wasn't at all threatening.
Lily Gray simply served as Mike Weston's antagonist, after all she did kill his father (who we only met in that episode). Side note, this series USED TO have flashbacks to establish character relationships, so even if we got to meet a character in one episode before they were killed, we got to see the relationship they had (cit: S01E12 "The Curse). It would've been nice to see Mike's relationship with his father before he bites it, it would've added so much needed "Give A Crap" to the scene where Mike watches his father get murdered. That being said, Mike going off the deep end due to Parker getting buried alive (in one of the BEST cliffhangers I've seen in awhile) wasn't handled all that well either, and while I did enjoy Mike beating the ever loving crap out of Luke, it was kinda outta left field and didn't have much build up to it. That being said again, Mike pumping a round into Lily Gray and ending her worthless plot thread was nothing but satisfying.
This redeemed about 90% of this Season.
Mark & Luke by themselves were the highlights of this season as both of them had distinguishable looks and behaviors that made them easy to tell apart (despite the fact that they're played by the same actor), and I could really see Sam Underwood channeling Michael Pitt from "Funny Games" with Luke. Their antics in terms of openly conversing with dead people and playing family with them was unnerving and the kind of brand of crazy this show needed to kick it up a notch. However, when Lily Gray was introduced as their mother, they immediately stopped being interesting and started being INCREDIBLY annoying! Especially Mark who has YET to show himself as being deadly. I've always said it's always the quiet ones you have to be careful of but Mark was so much of a big sissy that even Lily Gray (who I loathe) gotta cheer out of me when she told him to
"Man (the f*ck) up.
"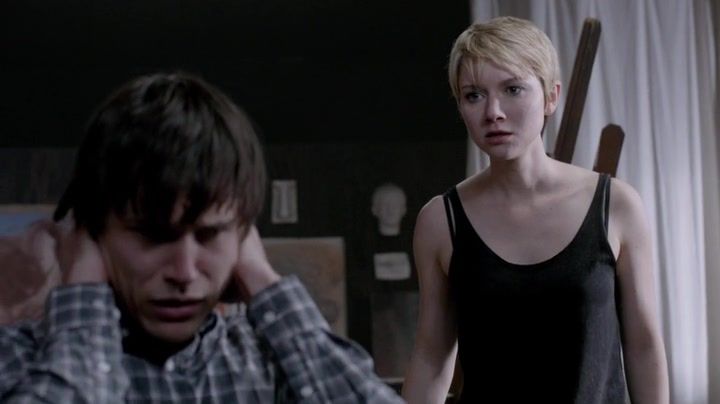 Seriously, man the f*ck up!
Had Mark and Luke and Giselle been orphans looking to Joe Carroll for guidance this could've taken Joe Carroll from being Cult Leader (in Season One) to Surrogate Father (in Season Two). Which would've been a way for Joe Carroll to make up for not having his son Joey. I was honestly hoping that's where this season would go, making it less of a cult and more of a family. However, with that being said (and I'm saying that a lot) I can't say I'm completely disappointed with where this season ended up.
Pretty much ended well for everyone. n_n;;
Getting back to the head honcho himself Mr. Joe Carroll, in typical psychopath fashion, Joe is back up to his old tricks and this is what REALLY saved the season for me. Joe and Emma infiltration and take over of Korban. The issue with the First Season is Joe (or Carrollism, rather) had NO message, there was no focal point, it was basically just a group of serial killers wanting to kill to feel justified in their killing through Joe Carroll. This season took Joe Carroll to a much more sinister place, religion! And anyone who knows me knows I am a HUGE student of religions, add serial killers to that and well...
Kudos, indeed.
Joe's "holy" war against Tanner was fun to watch because it surprised me that Joe didn't go after Kingston directly but rather went after his son and forced him to kill or be killed (of course the son chose kill) and this was in the old nihilistic spirit of "The Following" I fell in love with in the first season. The constant reminder that Joe is always proven right at the end of the day. I found it funny that The AV Club considering "The Following" a conservative show and Joe Carroll an Atheist caricature when A: Both Joe Carroll (the antagonist) and Ryan Hardy (the protagonists) are professing Atheists. B. "The Following" is written and created by an openly gay man (Kevin Williamson) and C. Joe Carroll is a megalomanical serial killer OF COURSE HE DOESN'T BELIEVE IN GOD, IN HIS MIND HE IS GOD! And this season didn't downplay that fact when Joe reveled in the chants of "PRAISE JOE!" during his take over of Korban.
PRAISE JOE!
It's a shame that The Korban crew is now dead, including Robert, who I liked very much. I really wish they would've lasted much longer than and they did more with this concept (after all, how does a cult react when their prophet gets incarcerated?) but oh well, I can only hope whatever happens in Season Three will be just as interesting and epic as this idea was.
Joe Carroll is such a fun antagonist and his interaction with Ryan was finally reflective where (much like "The Dark Knight"'s Joker) recognized that he doesn't want to kill Ryan (what would he do without him) he simply wants to watch him suffer, and I like one-sided obsessive villain relationships like this. Ryan has openly admitted that everything he did was to spite Joe and Joe just feels a kinship with Ryan. That concept of them having been friends before they became bitter enemies just sweetens the pot. And since we're talking about Ryan, let's address him.
Ryan, this season has got his stuff together and that was good for him, he's in good shape and quit drinking, and while he is still CRAZY obsessed with Joe Carroll, he's clear headed enough to know where he made mistakes. While Ryan hasn't made of a change, personality wise, his niece Max, was a MUCH welcomed addition to the cast. Max was a breath of fresh air and pretty much The Parker of this Season, someone who would check Ryan but recognize when to check and when not to. I'm really loving her character and I hope to see her again in Season Three. I also like the fact that while there was subtle interplay between Max and Mike, they didn't tear their clothes off and get down and dirty.
I'm glad Joey didn't make an appearance this season, while he was good in the first season, he really wouldn't have much to do this season. The twist of Claire being alive wasn't all that shocking considering her named still appeared in the credits and I hated seeing Emma go. Emma was pretty much the only character who checked Joe but was ultimately powerless to stop him, like a typical victim of Stockholm syndrome and foile a deux she went along with every hapless mission Joe sent her on. It'll be interesting to see how Joe carries on without Emma, but it's clear that he honestly didn't give much of a damn about her (and I love that, because seriously, Joe's a megalomaniac).
As for the finale, I enjoyed the interplay between Ryan, Joe and The Twins, however...Luke has been shot more times than f*ckin' Robocop and is somehow still alive (I think...I hope not);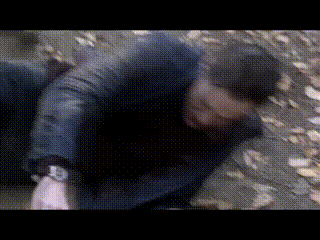 One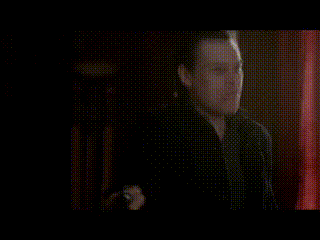 Two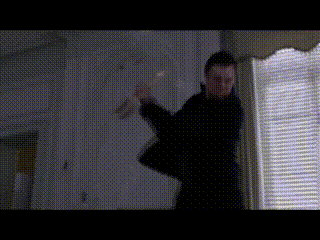 Three
Ryan is moving on from Joe (however, I have a feeling Joe will be returning next season in a consultant role). Mark (and possibly Luke) are still alive and apparently have massive resources (which makes me wonder why they didn't use those resources in their final gambit...but I'll chalk that up to them being impulsive, young psychopaths) so it looks like they're shaping up to be the main villains of next Season...not sure how I feel about that considering I could honestly care less about their revenge for an absolutely sh*tty character. However, I enjoyed seeing Joe Carroll once again play the role of manipulator with The Twins, the man's a master and knows how to rub psychopaths the wrong way.
Gotta love that smile.
In conclusion, this season started off VERY BAD but after correcting the missteps it managed to become something pretty sinister and got back to it's old self. However, I don't know if this show has a decent 3rd season in it, ESPECIALLY with Mark and Luke as the bad guys. Only time'll tell. Until then, catch you guys later and praise Joe!