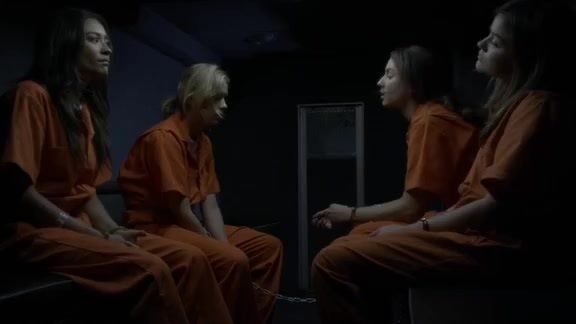 And here we are kids & kiddos! After 120 episodes, 9 kills, 1 reveal of "A" (Mona) and a MAJOR bullsh*t reveal (Shana), we have come to the moment we've all been waiting for. With The Liars now sporting orange jumpsuits, Big "A" finally reveals themselves to The Liars. Could the stakes BE any higher than now? Was this reveal disappointing, senseless or was it totally worth the wait? All that and more after the break!
And "A" is...who knows...honestly. These faux reveals are getting seriously tiresome, but I guess it's to be expected now. At the moment, we at least have a name, "Charles"...more than likely Alison's twin brother or something. We he chose the pseudonym "A" instead of his own initial is anyone's guess, considering "A" was Mona's creation. But I digress. So this episode appears to be huffing from the "Persons Unknown" bag, what we have locked cozy rooms, food, and gas masks. And shock of all not shocks, Mona's still alive. It'd have helped if Janel Parrish didn't announce that she'd be in Season 6, but whatever. Some good things did happen in this episode, Det. Tanner gotta serious talking to and decided to help the good guys for once after Spencer's Mom dropped some serious logic and that moron.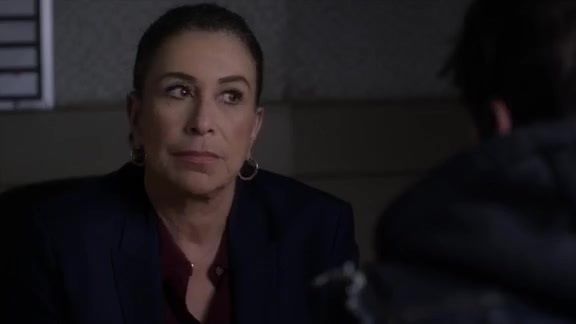 That Face You Make When Some Serious Logic Was Dropped On You.
Andrew is confirmed to be an "A" spy after we caught a glimpse of him listening to Mrs. Hastings calling Melissa (about what, who knows.) But anyway it's safe to say that Andrew is indeed working for "A". Now here's a serious question, who is Andrew to "A"? Son? Friend? I have an idea that "Charles " is Alison's twin brother, I think that was made perfectly clear but what's not clear is why. Is "Charles" trying to get back at everyone for taking a life that was originally his or did Alison screw this guy over something royal? Only time will tell. Speaking of royal, let's address something else. So I imagine a lot of you are calling bullsh*t on I. Marlene King because she said that "A" was in the pilot episode. Well you'd be wrong to do that since that technically wasn't a lie, one of the "A's" was in the pilot episode, Mona. She never said anything about where the other "A's" would come from after Mona.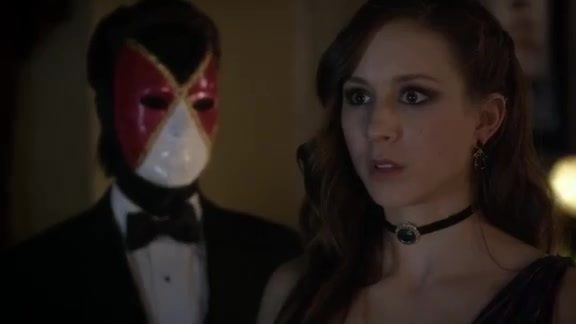 Hello, Charles.
Despite this episode giving us absolutely nothing in terms of "A" and his motives, it does give us an EXTREMELY interesting launching point for Season 6. Now Tanner and The Rosewood P.D. are on the side of girls, Alison will have all her charges dropped (now that Tanner knows Mona's alive), and Season 6 will basically be a manhunt for The Liars. Geez, how'd we get her? Season 6 is looking to be much bigger and badder than any other season, because now The Liars are in "A's" hands. "A" has won, so The Liars best get to learning what their new master wants and fast! What's with the gas mask? What's with convincing Mona's she's Alison? What's with not killing The Liars? What is going on?! I guess we'll have to wait until Season 7 (that's not a typo) to figure that out. Peace out, Kids! See you all in the Fall.